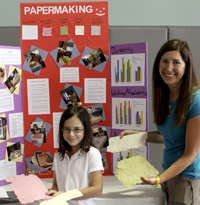 Science Fair: Punishment or Opportunity?

Personally as a child, I did not like science fair. It seemed like showing off, whoever bought the best kit or parents got the most involved won the "award." As a teacher, I was unsure about this grand venture, which seemed to be a tremendous time waster.

It was with trepidation I was first involved in science fair as an 8th grade Chemistry and Physics Teacher at the Culver City Middle School which was listed as both a Distinguished School and a California School to Watch and run by award winning Principal and later Superintendent Patti Jaffe. The team of 6th, 7th, and 8th grade science teachers really cared that the experience was as relevant as possible for our students and worked hard to create guidelines and a timeline that would support our students at each step. As a group, the teaching team shared their skills to create meaning with this experiment-based prospect across grade levels.

Upon returning from a year sabbatical in South East Asia, I taught seven grade levels of science (Kindergarten through Sixth Grade) at a private elementary school in Brentwood. Additionally, I ran the science fair for 3rd to 6th graders, which meant I was in charge of the projects for about one hundred and fifty students.

Daunted by both responsibilities, I leaned heavily on the experience of the Los Angeles Science Teachers Network, which I created at the same time. An entire meeting was devoted to best practices for science fair and over twenty teachers shared their ways to create an event that was more of an adventure than a penalty for all the students, parents and teachers involved.

Joseph Rose, the much loved and well-regarded science teacher for the last decade at the Village School in the Pacific Palisades, revealed his plans for his third grade students. I knew instantly that this could be my strategy as well. Willingly Joseph disclosed all his secrets for success and answered my many questions by phone and email. This mutual mentorship included many visits to each other's classrooms and special assemblies.

I worked diligently with my school librarian to teach students relevant research skills as well as the most current citation methods. I also discovered www.sciencebuddies.com which became my formula for the 4th-6th graders.

A key piece of the superb Science Buddies site is the topic wizard for project selection. I start the year with my older elementary students with a discussion of Howard Gardner's Multiple Intelligences and how there are so many ways to be smart. The topic wizard seems to really assess the strengths and preferences of each individual student and if taken conscientiously can offer several suggestions of topic tailored for each one. Parents often complain to me that it would be much easier (for them) if I would offer only a dozen project choices and their child could pick among those.

Learning to choose your topic may be the most important and relevant part of the whole fair. In The Impact Equation, Chris Brogan and Julien Smith state that "one reason many people don't have good ideas is that they were never taught how." Our children need to be able to be creative and come up with novel ideas to attempt to solve the problems of the future. Finding a topic for science fair is a great place to start working on formulating ideas and making choices.

When I heard Sir Kenneth Robinson, the internationally regarded education expert, speak about schools and their impact on destroying children's creativity, he talked about how students want to care and need to be connected to what they are learning. If students pick a topic they are passionate about, they will inherently be more engaged. In This Is Your Brain On Music: The Science of a Human Obsession, an award winning book about neuroscience and music, Daniel J. Levitin discusses how when we care about something, stronger connections and memories are formed in brain. It is actually harder to learn something or from someone you don't like or care about.

After selecting a topic, the Science Buddies site offers information on every step to succeed. There is a forum to talk with an expert which several of my students and I used for different projects. We engaged other teachers in our school to assist with projects on sports, music, technology, and art. Using a timeline, checklist and class time, all of my students were able to shape a project that spoke to them. There was a wide range of topics from the timely topic of distracted driving , to creating video games for the blind which included a visit to a community center for children who are blind, and for my future entrepreneur the first step to a future visit on Shark Tank, creating her ownlip gloss.

As much as possible, I suggested topics to students around their interests while encouraging projects that focused on the environment or community. Students created paper from recycled materials, learned about gray water, built models of wind turbines as well as watched movies to see how the music impacted their emotions. One mom called me and questioned, "Is their homework really to watch movies?" This team of two never worked harder and honed many essential science skills, while they watched movies, they took notes, recorded their observations, created charts and graphs, and spoke many times with the music teacher. For their favorite part, I connected them with a friend who is an Emmy award winning movie editor who answered many questions.

One of the most rewarding connections for all involved was a project about solar ovens. This team tested three different designs including a solar cooker from the Jewish World Watch project. These young women not only learned about solar energy, experimental design and brownie tasting but also engaged with the organization and chose to have a bake sale to raise money to provide solar cookers to the Darfur refugees. On the day of the Science Fair, one of the young women turned to me and said, "I don't care about what grade we got. This was a great project. It was fun, we worked together, we learned stuff but the best part was that we really helped people. We raised money and now people will have a solar cooker and they will be safe."

Science Fair can sometimes seem like a punishment but given the opportunity to guide students to engage with their passions, they can create real meaning for themselves and others. By the way, I give ScienceBuddies.com an "A" and the solar cooker project team, they got an "A" grade from me, but really they didn't need it. They gave themselves an "A" by their determined and inspired work!

About the Teacher: Lisa Niver Rajna has been teaching and traveling on six continents. She runs both We Said Go Travel and Science Isn't Scary. Video: Watch Lisa's students in Action in the Science Lab.
COMMENTS
View our privacy policy and terms of service.