I know it's not all roses for Jews around the world right now. But in the United States, well, Jews are thought of more highly than any other religious group, save for Methodists.
And according to a new Gallup poll, only 4 percent of Americans have a "total negative" view of Jews, compared with 25 percent for fundamentalist Christians, 26 percent for Mormons, 34 percent for Muslims and 45 percent for atheists.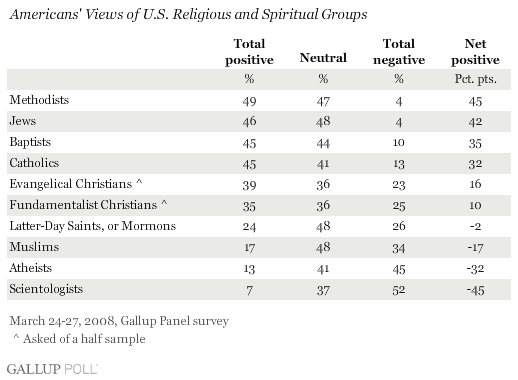 (Hat tip: Bible Belt Blog)
COMMENTS
We welcome your feedback.
Privacy Policy
Your information will not be shared or sold without your consent. Get all the details.
Terms of Service
JewishJournal.com has rules for its commenting community.Get all the details.
Publication
JewishJournal.com reserves the right to use your comment in our weekly print publication.