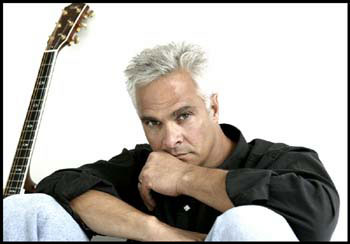 There is a growing tradition of musical Shabbat services in the Los Angeles area, but the most popular precursor to them all is Sinai Temple's Friday Night Live. Combining Craig Taubman's infectious and emotive Jewish music with Rabbi David Wolpe's insightful commentary, the second Friday of every month at Sinai is the Shabbat celebration of choice for nearly 1,500 Los Angeles Jews.
This past week, the vocals of the Beit Teshuva choir added vibrato and solemnity to the evening, a delightful complement to the performative liveliness of Taubman's band, and resonating with more devout members of the congregation. Some attendees find FNL overly-theatrical, evoking the atmosphere of a rock-concert and not a worship service. A soulful Taubman frequently orchestrates musical sequences as a conductor would, using impassioned gestures to manipulate the tone and tempo of each song, but to startling spiritual effect. The applause that erupts seems to me, a genuine expression of passionate piety and not commendation of an act. Often in musical forms of worship, the senses are overwhelmed; the eyes and ears must absorb, the voice and body must react and offer their outpour. What results is a kind of visceral transcendence. This is not for the conservative of soul - this is for those who want to act! To dance! To sing!
Halfway through the service, Rabbi Wolpe strolls into the aisles and envelops the crowd
with his wisdom-of-the-week. The mayhem of Paris Hilton's plight that day obligated him to address the storm that swept the city as Hilton was released and re-incarcerated. With razor-sharp intellect and a smile, he taught the congregation about depth: he said we spend so much time focusing on the way we appear to others; he suggested the necessity of cultivating "inner resources" beneath our glossy surfaces; he warned that life will deal us blows, but inner substance equals the fortitude we need to get through hard times. Those moments of real insight not only demonstrate Rabbi Wolpe's intuitive gauge of the community's needs but represent the religious grit of the Friday Night Live experience.
After the service concludes, ATID (Sinai's 21-39 membership) hosts an exclusive afterparty/oneg replete with challah, dessert and beer. There, young professionals can mingle and unwind, indulging in the promised "rest" beyond the rigorous workweek.
Friday Night Live symbolizes the full spectrum of what it means to be a modern Jew in Los Angeles, contributing to the cultural development of the next generation. Through ATID's social networking, Taubman's music fostering joy and Rabbi Wolpe's instruction on enlightenment, this service hits the spot: it's hip, enlivening, community-engaging and spiritually relevant - the modern fabric of Shabbat unfurled.
Sing-a-long with Craig the 2nd Friday of every month at 7:30pm. Sinai Temple, 10400 Wilshire Blvd., Los Angeles.