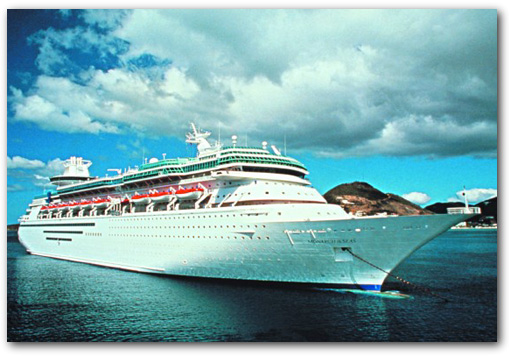 This weekend, I couldn't help but think about Titanic. I've only been on a real cruise once before but I vicariously sailed James Cameron's Titanic more times than I'd like to admit—and not just for Leo. Sailing out into the open sea had its appeal: unadulterated leisure, fanciful dining, dancing and brandy seemed like a welcome departure from the real world, so when I caught word that ATID was organizing a "Chanukah Cruise" I simply couldn't resist.
Nearly 60 young Jews in their 20s and 30s braved cold weather and a rocking boat to celebrate Chanukah and Shabbat together. En route to Ensenada, Mexico on Royal Caribbean's Monarch of the Seas, the group enjoyed hip-hop dancing, karaoke, yoga, a casino and piano bar joining together each evening to light the (electric) menorah, eat latkes and play cheesy get-to-know-you games.
It was like Jewish summer camp for a weekend, but with ubiquitous Christmas decorations. There were group activities, but the programming was light. Anyone who played hooky from services missed an unforgettable version of the amidah: just try davening while ocean waves are jerking you back and forth. Queasy customers tried pressure point bracelets, herbal bandaids and the drug Scopace, which, after further investigation, appears to have been used as a truth serum in the 1950s by intelligence agencies—-even Nazi doctor Josef Mengele used the stuff for interrogation!
During meals, everyone was requested to keep kosher-style and eat "vegetarian." Most people complied and others clandestinely ordered duck and steak to-go.
In Ensenada, people rented ATVs and went sloshing through the mud to visit vineyards or the famous blow hole "La Bufadora." Others walked through a tourist-infested town on a cold, wet day compulsively buying cheap Mexican trinkets and tequila. Small pharmacies boasted open sale of drugs you need prescriptions for in the U.S. Tempting; but not kosher.
Rabbi Brian Schuldenfrei had a chance to shine in an intimate setting where he related to the group as a spiritual leader and friend. An engaging teacher, he knows how to stimulate young learners by inviting their commentary and critique. His study sessions were trip highlights, and he was complemented by his lovely wife, Rabbi Deborah Schuldenfrei, assistant rabbi at Shir Ha-Ma'alot in Orange County.
JJ Religion Editor Amy Klein and I facilitated a pseudo-jeopardy game on "Everything you always wanted to know about relationships but were afraid to ask." Questions about courtship, sex, money, religion and fidelity were enticing enough to rouse the group by 10am Sunday morning. The Rabbi surprised one and all when he chose "Sex for 900." His answer on how to spice up your sex life? ...Date night.
Not that this resembled "The Love Boat." Mostly it was just a group of Jews, escaping the bustle of L.A. for a weekend, looking for new people and finding friends in the comfort of community.
COMMENTS
View our privacy policy and terms of service.