Posted by Dikla Kadosh
Guest blogger Jay Firestone:
For the second Christmas Eve in a row, I've had the privilege of attending the famous San Francisco Jewish singles dance, known only as The Latke Ball. Hosted by Young Adults Division of The Jewish Community Federation of San Francisco, this year's dance saw over 1200 in attendance. And when you're a young guy, with a full head of hair and a waistline line that doesn't reflect decades of devouring chocolate babka, it is truly an amazing (and highly rewarding) experience.

Contrary to a Bar Mitzvah party, where you'd see your aunts and second cousins drinking and dancing to the Macarena, The Latke Ball was home to cute younger women with dance moves not quite 'shul appropriate,' though sure to inspire a few blessings in disguise.

I met a few girls, chatted with them, exchanged numbers and soon after dismissing myself from the painfully boring conversation, deleted those numbers.

But I forced myself out on the dance floor and enjoyed the rest of the night. I was on a mission - to find a mate…for the evening.

I can't go into further detail, nor will I reveal any possibly incriminating stories.

All I will say is that later on in the evening, I ran into an old fraternity brother of mine that I hadn't seen in a few years. I introduced him to a group of girls. Minutes later, he was locked in a passionate make-out session with one of the lucky ladies.

A vicarious success.
---
The Jewish Journal believes that great community depends on great conversation. So, jewishjournal.com provides a forum for insightful voices across the political and religious spectrum. Most bloggers are not employees of The Jewish Journal, and their opinions are their own. Our entire blog policy is here. Please alert us to any violations of our policy by clicking here. (editor@jewishjournal.com). If you'd like to join our blogging community, email us. (webmaster@jewishjournal.com).
---
December 27, 2007 | 2:17 pm
Posted by Danielle Berrin
I was on my way out of ICM's lush private theater after a screening of Israeli film "Beaufort" when someone asked me if I liked the film.
"It's a hard film to say you like," I answered, "but it's a very well made film."
Its technical merits are many, but its content—challenging.
Leaving politics at the doorstep, "Beaufort" is an oppressive film to watch. On view are deeply gashed and bleeding limbs, dead bodies and vomiting soldiers. Missile attacks from Hezbollah explode to an ominous score that fills the audience with unease, anxiety and tension.
The film tells the story of the last Israeli outpost stationed in southern Lebanon in 2000. A group of (unlucky) soldiers have the task of guarding a hilltop near Beaufort Castle and endure persistent violence at the hands of Hezbollah. By day, the soldiers debate the efficacy of the Israeli politicians and the IDF; at night, they alternate manning the lookout post, the most vulnerable spot on site and a frequent target.
Filmmaker Joseph Cedar crafted a provocative meditation on war that suggests the soldiers were sitting ducks while the Knesset, stalled by bureaucracy, failed to protect them from Hezbollah. Cedar exposes the breadth of the Israeli political spectrum through the soldiers' frustrated voices. As the bulwark of Israel's security, they struggle with polarizing, moral dilemmas. Ultimately the protagonist unit leader must decide: follow orders or preserve human life?
The film is contentiously vying for a foreign language Oscar nomination along with "The Band's Visit," and will soon makes its way to a theater near you.

December 20, 2007 | 9:02 pm
Posted by Danielle Berrin
Ten days before John Lennon was killed, photographer Allan Tannenbaum captured intimate portraits of the music legend and his wife, Yoko Ono. Reluctant to capitalize on what were certainly some of their final moments together, Tannenbaum refrained from publishing the photos until now, nearly 27 years later.
Thanks to my mother, a woman with discerning taste and a passion for NPR, I found the "Day to Day" report on Tannenbaum, the talented photographer who unwittingly memorialized John Lennon's final days.
The resulting photographs, recently released in his new book, Yoko and John: A New York Love Story portray the couple as they were: intense, joyful lovers.
With fleshy, nude bodies, they pose in various imitations of copulation, their facial expressions as honest as their nakedness. They vacillate between solemnity and rapture, dressed and undressed, as Tannenbaum's camera challenges the relationship between subject and spectator: clad in leather in Central Park, the glare of a searching couple pierces the lens - it's almost as if they are observing us.
December 19, 2007 | 12:15 pm
Posted by Danielle Berrin
The motion of the ocean is clinging steadfast to our souls, so when ATID director Stacey Zackin sent out the following survey about the Chanukah cruise, our very own Amy Klein decided to respond in kind.

Here's what Amy (really) thought about our weekend at sea:
1. My favorite aspects of the cruise included: picking up a neglected 12-year-old named Christian who wanted to sit in on the services and Chanukah candle lighting, and wondering if, in ten years, he will find himself wanting to convert due to this cruise; the pineapple drinks with the umbrellas and the Caribbean band on deck which almost convinced me I was on "The Love Boat" sans Julie McCoy; "The weirdest Chanukah gift you've ever gotten game" in which TWO people were "the gift" (but Noah Gordon didn't mention it aloud); potato latkes with applesauce and sour cream in the middle of the ocean (take THAT, you Christmas trees!); The Cantor talking about her weirdest date with a guy who broke down in tears because she told him he was a little late; Karaoke when ATID people took the floor with "We Are Family" and David channeled his inner Barry White

2. My least favorite parts of the cruise were: the nauseated swaying of the boat, mitigated by intense swaying that made it look like I was praying all the time, until I got to the dance floor, where it felt normal; losing money at the blackjack table (yeah, well, you don't need to be a fortune teller to predict THAT); the inclement weather (hey, THAT never happened on The Love Boat); not actually being on The Love Boat (where is Isaac the Bartender??!)

3. Next year I'd like to see the following changes: I'd like the whole cruise to be Jews. A Jews Booze Schmooze Doozy of a Cruise.

4. Please let us know how you felt about the ATID programs. Was there enough mingling among ATID members and was the observance/celebration of Shabbat and Hanukkah meaningful to you? Chanukah? We were celebrating Chanukah? I totally thought it was a Kwaanza cruise….hmm.

5. If we do another cruise, will you want to attend? I stayed on the boat and decided to help out our waitress, so she can make enough money to go back to Slovakia and pursue a modeling career.

6. Based on your experience on the cruise, will you be more likely to attend other ATID events? What's Atid?
December 17, 2007 | 12:05 pm
Posted by Danielle Berrin
We're inundated by Hollywood imagery everywhere we go: billboards, supermarkets, television and of course, the movies. No matter how much we love its products or despise its prevalence, it is undeniably compelling. It's glamorous and decadent, although beset by the trappings of celebrity. We don't have monarchs in this country, but we don't need them: we have Brangelina. Hollywood, for what it's worth is the closest we get to royalty.
Or at least I had imagined it that way, but when you're sitting one row behind Morgan Freeman's balding spot, the whole mystique about it gets, well, demystified.
I won't deny the excitement curling my toes as I walked into the Arclight's Cinerama Dome for the premiere of The Bucket List, a film about two finely aged men played by Jack Nicholson and Morgan Freeman, who are dying of cancer and decide that in their final year of life, they are going to do everything they never did - i.e. have a few thrills. Thrills for them: flying in private jets, visiting the Taj Mahal, scouting Egyptian pyramids and climbing Everest. Thrill for me: unlimited free popcorn.
There was a light buzz in the air as whispers, handshakes and hugs trumped using the blackberry; because, you know, everyone is here—and the blackberry can wait. As the sold-out crowd ushered into the theater (that bears a striking resemblance to a science planetarium) things were like they always are at the movies: dark, quiet, the audience anticipating the curtain.
Director Rob Reiner did a quick intro before the screening about how laughable it was to sell a film for $45 million about "two old guys dying of cancer" and after having seen the film, which was really nothing more than a star vehicle for its leads with exquisite CGI backdrops, I can think of a few better ways to spend that sum. Like on the party…
Boulevard 3 on the Sunset Strip, framed by stretch limos and besuited men in black guarding the gate, was a choice venue for the swanky winter scene: trim trees with colored leaves lined the entryway, flanked by intimate cabanas with plush couches and heat lamps. Blonde ladies greeted guests at the door, wine trays in hand, so no one had to move more than a few inches before pressing a glass between their fingers.
Inside the more sparsely decorated warehouse, 8 buffet stations encircled an open atrium where industry people crushed together, celebrating the film, celebrating each other.
John Mayer huddled into a booth with the ever-bespectacled Jack, and that moment was the first and last glimpse I saw of the stars at the party.
"So does anybody say what they really think about the film at these things?" I casually asked the gentleman standing next to me.
"That depends who you're talking to," he said.
Oh royalty: it's so nice to sit on your throne and hear people call you, "Your Majesty." Off with his head if any man disagree!
December 13, 2007 | 11:29 am
Posted by Dikla Kadosh
Looking for something last minute to do tonight? Need help planning an outing with out-of-town guests? Want to find the hottest Jewish gathering on Christmas Eve?
The Calendar Girls are here to help! Our picks for the week, published regularly in The Jewish Journal, is now available for everyone to easily access online. Singles parties, concerts, community festivals, volunteer opportunities - all the events we think are the creme of the crop - can be seen weekly on The Jewish Journal homepage: www.jewishjournal.com. Scroll down to the middle of the page to the section titled "here" (as in, what's going on here in town) and you'll see the link to our Calendar.
In addition, you can peruse The Jewish Journal's Community Calendar, where everyone is welcome to submit their own events in their own words.
So check out our Calendar and get busy filling up your calendar!
December 11, 2007 | 10:10 am
Posted by Danielle Berrin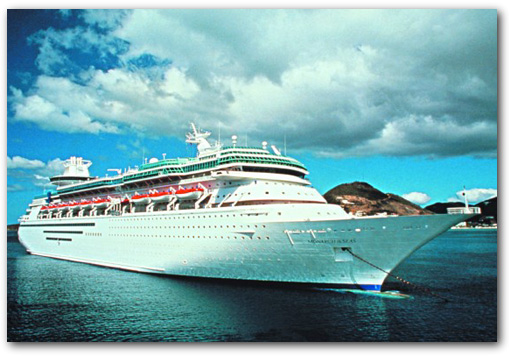 This weekend, I couldn't help but think about Titanic. I've only been on a real cruise once before but I vicariously sailed James Cameron's Titanic more times than I'd like to admit—and not just for Leo. Sailing out into the open sea had its appeal: unadulterated leisure, fanciful dining, dancing and brandy seemed like a welcome departure from the real world, so when I caught word that ATID was organizing a "Chanukah Cruise" I simply couldn't resist.
Nearly 60 young Jews in their 20s and 30s braved cold weather and a rocking boat to celebrate Chanukah and Shabbat together. En route to Ensenada, Mexico on Royal Caribbean's Monarch of the Seas, the group enjoyed hip-hop dancing, karaoke, yoga, a casino and piano bar joining together each evening to light the (electric) menorah, eat latkes and play cheesy get-to-know-you games.
It was like Jewish summer camp for a weekend, but with ubiquitous Christmas decorations. There were group activities, but the programming was light. Anyone who played hooky from services missed an unforgettable version of the amidah: just try davening while ocean waves are jerking you back and forth. Queasy customers tried pressure point bracelets, herbal bandaids and the drug Scopace, which, after further investigation, appears to have been used as a truth serum in the 1950s by intelligence agencies—-even Nazi doctor Josef Mengele used the stuff for interrogation!
During meals, everyone was requested to keep kosher-style and eat "vegetarian." Most people complied and others clandestinely ordered duck and steak to-go.
In Ensenada, people rented ATVs and went sloshing through the mud to visit vineyards or the famous blow hole "La Bufadora." Others walked through a tourist-infested town on a cold, wet day compulsively buying cheap Mexican trinkets and tequila. Small pharmacies boasted open sale of drugs you need prescriptions for in the U.S. Tempting; but not kosher.
Rabbi Brian Schuldenfrei had a chance to shine in an intimate setting where he related to the group as a spiritual leader and friend. An engaging teacher, he knows how to stimulate young learners by inviting their commentary and critique. His study sessions were trip highlights, and he was complemented by his lovely wife, Rabbi Deborah Schuldenfrei, assistant rabbi at Shir Ha-Ma'alot in Orange County.
JJ Religion Editor Amy Klein and I facilitated a pseudo-jeopardy game on "Everything you always wanted to know about relationships but were afraid to ask." Questions about courtship, sex, money, religion and fidelity were enticing enough to rouse the group by 10am Sunday morning. The Rabbi surprised one and all when he chose "Sex for 900." His answer on how to spice up your sex life? ...Date night.
Not that this resembled "The Love Boat." Mostly it was just a group of Jews, escaping the bustle of L.A. for a weekend, looking for new people and finding friends in the comfort of community.
December 7, 2007 | 9:09 am
Posted by Danielle Berrin
The story was their own.
At the turn of the 21st century, a veteran actress struggles to keep Yiddish theater alive in New York. She desperately searches for money and a miracle to extend the run of a show scheduled to close on the last day of Chanukah. Years later, two impassioned filmmakers work outside the studio system with little financial backing to tell her story. They decide to call it "a love story." As fate would have it, audiences are falling head over heels for this documentary; a film that, more than anything, is about the distances people will go for their art.
Dan Katzir and Ravit Markus have brought the world "Yiddish Theater: A Love Story" and despite lack of advertising and a limited release, solid reviews in the L.A. Times and The Daily News are compelling crowds to movie theaters. Variety listed the doc as a top indie opener last weekend, so Laemmle Theatres has extended its run in the Valley and opened weekend showings at their Santa Monica location.
It may be rainy weekend so stay dry and see the current cinema.
Here's the schedule:
Laemmle's Monica
1332 2nd Street
Santa Monica, 90401
310-394-9741
Sat & Sun: 11:00 am
Laemmle's Fallbrook
6731 Fallbrook Ave
West Hills, CA, 91307
818 340 8710
Fri, Sat & Sun: 12:00 noon, 5:00pm
Mon-Thu : 1:00pm & 6:00pm
Wednesday: 11am, 1:00pm & 6:00pm